By a Lineman for a Lineman
Certified Non-Conductive Tools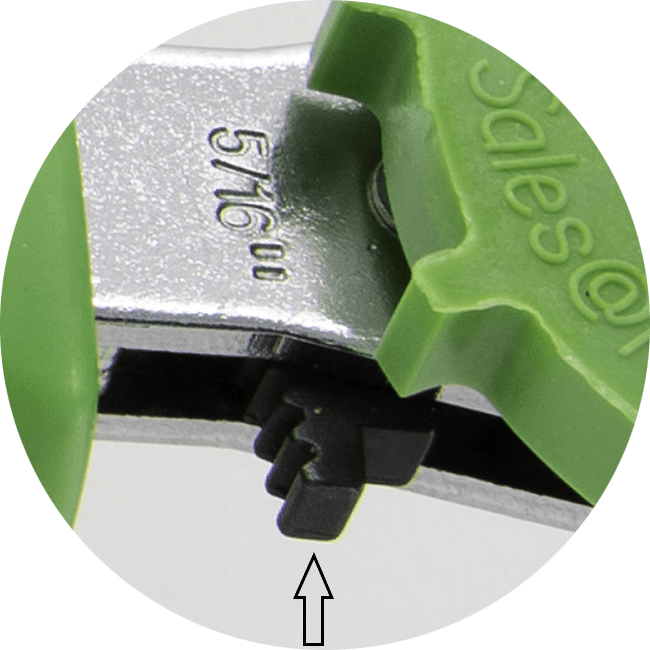 Safe, Versatile & Comfortable – Ratcheting Wheel Insulated Hex Wrench
Our patent pending Ratcheting Wheel provides a large surface area for lineman to hold and ratchet to prevent lugs from free spinning in the initial stages of tightening.
Versatility
The Ratcheting Wheel linemans insulated hex and socket wrenches are available in multiple configurations for your needs.
Standard, Hex, SAE, or Pentagon Socket
3/16, 5/16, 3/8 Hex
5/16" Extra Length Hex Wrenches are Available
SAE 9/16' and 5/8' Sockets
Non-Conductive Hex Caps
Ratcheting or Fixed Penta Socket
Single or Dual Ratchets
Ratcheting Wheel Tools offers over 50 different configurations to ensure you have the right tool in your hand.
Please contact us for pricing & availability.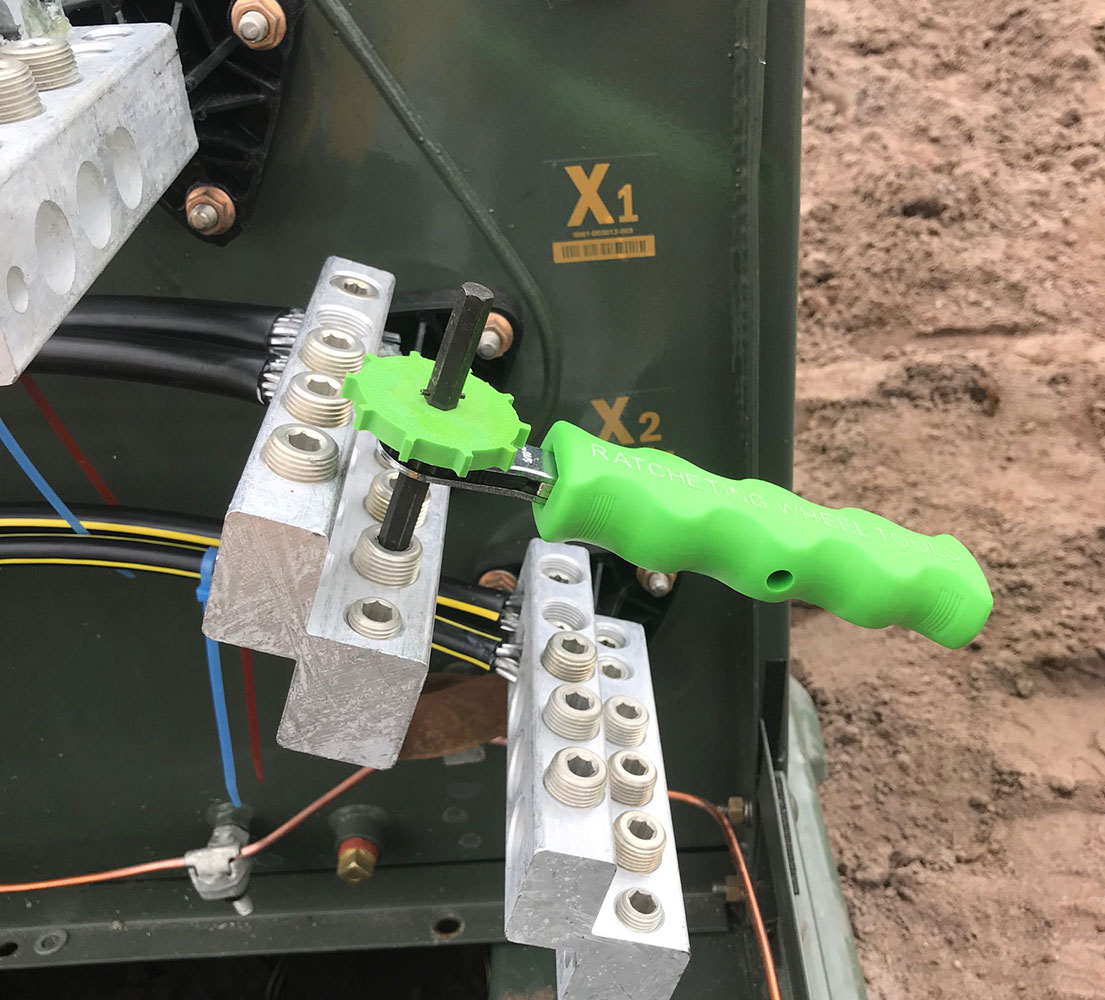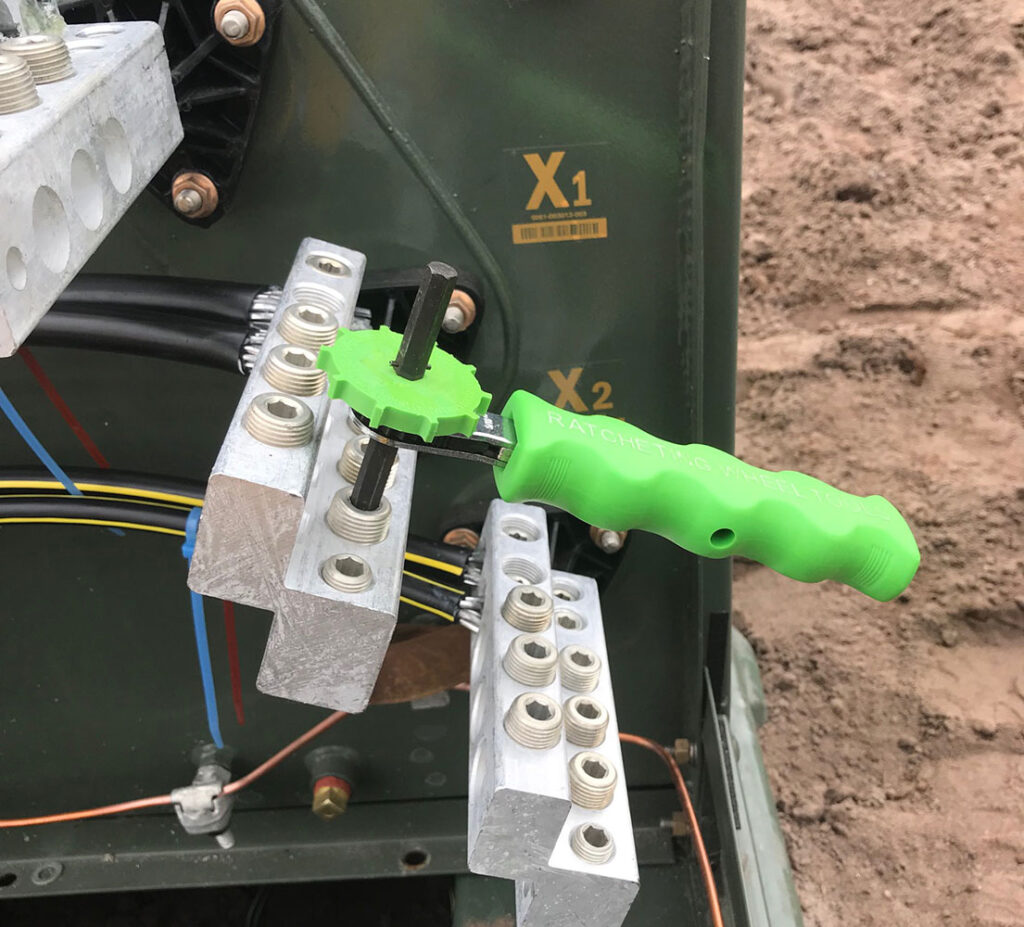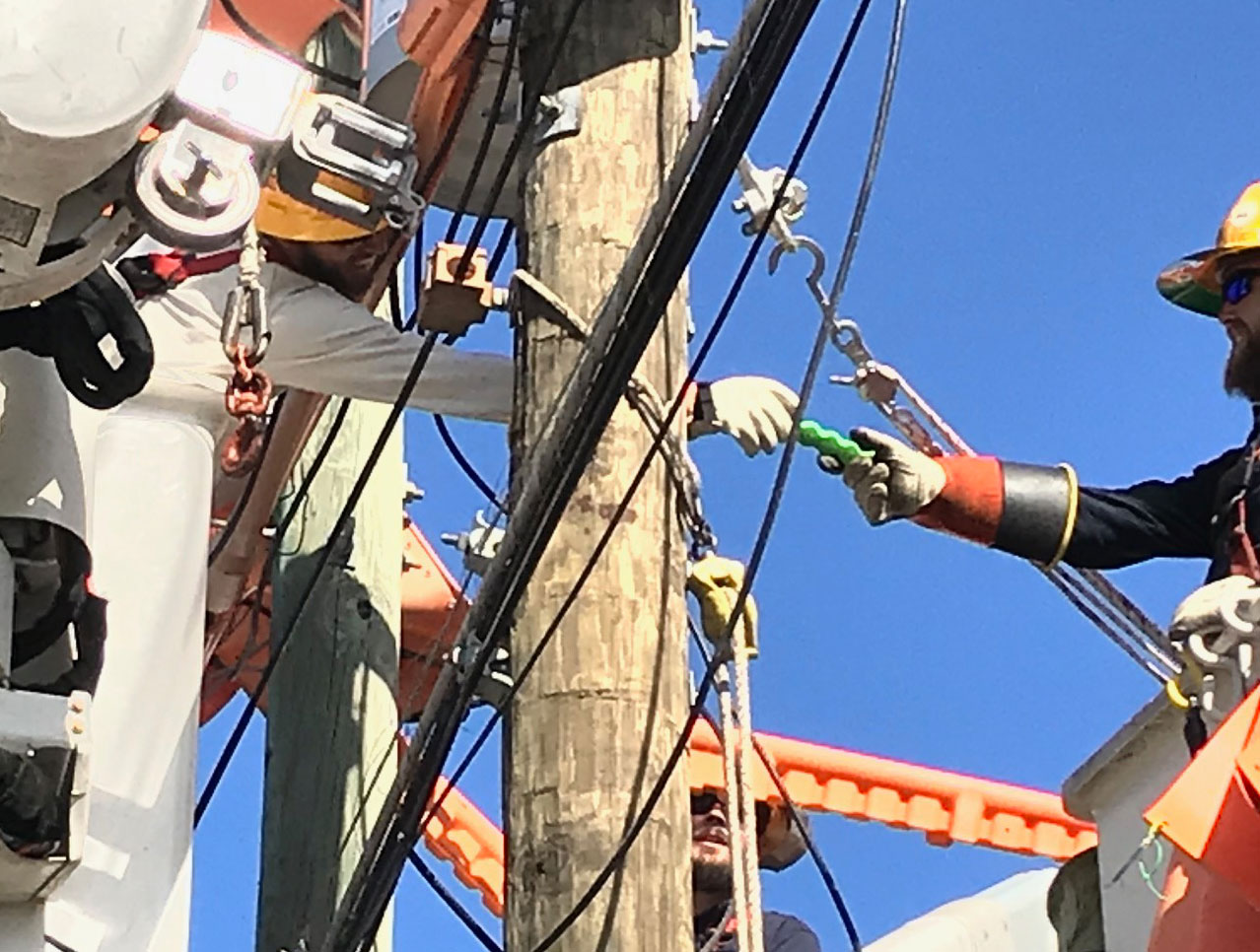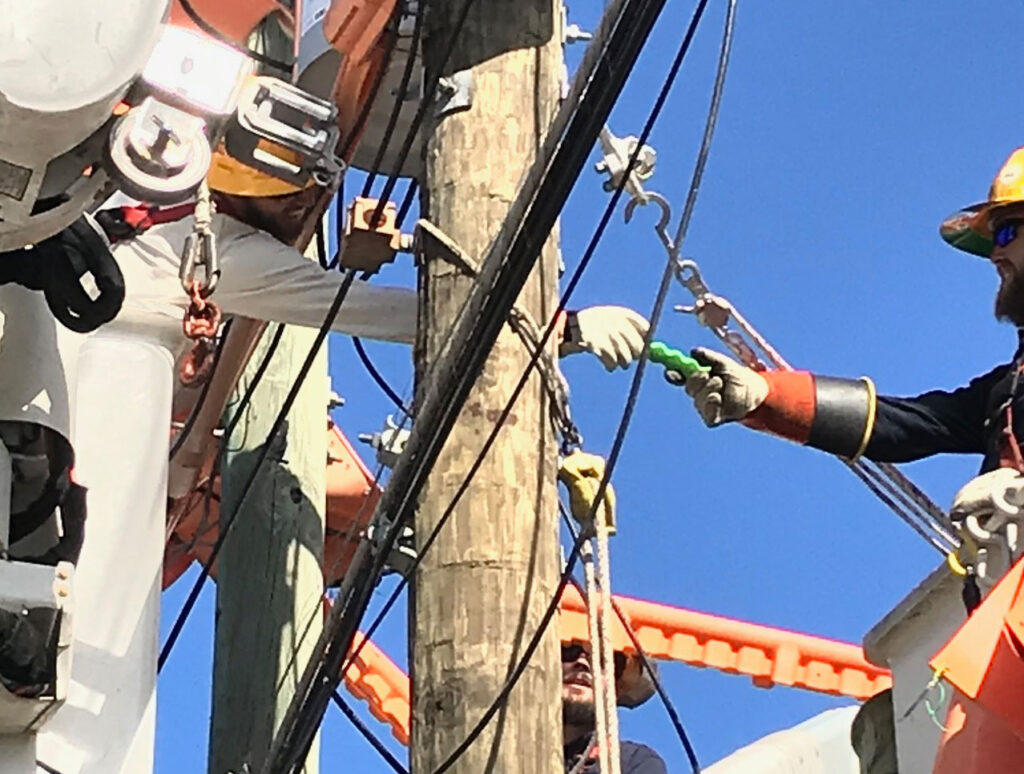 Safety
Made of certified non-conductive dielectric polymer that exceeds 1,000 Volts./.100" per ASTM 1505-16.
1.250" Tool separation for hot work with see through hole in handle for visual confirmation of separation.
Non-slip ergonomic handle, longer forward/reverse lever and our patented Ratcheting Wheel means safer one-handed operation.
Non-conductive dielectric polymer Hex Caps available on most hex parts.
Testimonials
Lineman who have tried the Ratcheting Tool insulated hex wrench agree that it makes their job quicker, easier, and safer. From the moment George started using the first prototype in the field, lineman have been asking for this wrench.
Awesome tool! Well worth the money.
I purchased a RW-04 recently and it has been an amazing tool and every bucket flying should have one in it.
I have been using the 5/16 ratcheting tool for a while and it has been a life changer, with the wheel on top to tighten and loosen the screws especially wearing my hot gloves. I highly recommend this tool to anyone in this industry.
Michael Marchione   (street light technician)
Highly recommend this tool in any variation. Definitely can tell that a lineman built this thing with a mindset of helping a lineman. Great tool all the way around, and very easy to use in rubber gloves too. Very easy to navigate website as well.
I've had the Ratcheting Wheel Tool for about a year and a half now. It's great getting in between multi tap on an overhead transformer. Everyone I let use the tool wants to know where to buy them, good job George.
I have been using the Ratcheting Wheel Tool for two months now and have been very impressed with it. Very easy to use and great fit in hand, makes the job faster and easier. I would this tool to anybody.
Bryant H
I have been using a prototype of the Ratcheting Wheel Tool for the last two years. It has been a very useful tool to use on the ground, bucket, or climbing. Whether I am in a underground transformer or pedestal box, it makes it easier to tighten the lugs with Hot gloves on. It is very convenient having the 5-side pentagon socket on the bottom. Less tools to carry than before. It fits nicely in my bucket tool board. Very convenient when climbing. You will not be disappointed in the tool. Support your local lineman. I highly recommend this tool for lineman and apprentices.
I'm a 4th year AP and I have been using an old original prototype that George lent to me, and I love it. I highly recommend this tool for all linemen. This tool was designed by a lineman for a lineman. A lot of thought went this tool from the length of the forward and reverse lever to the comfort grip handle. The ratcheting wheel is a game changer.